Strontium Nitrate - Sr(NO3)2
250 g in package


Strontium nitrate is used to produce a rich red flame in fireworks and road flares. The oxidizing properties of this salt are advantageous in such applications.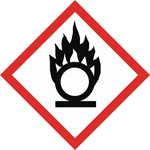 H272 – May intensify fire; oxidiser.
H318 – Causes serious eye damage.
P210 – Keep away from heat/sparks/open flames/hot surfaces. — No smoking.
P220 – Keep/Store away from clothing/…/combustible materials.
P260 – Do not breathe dust.
P280 – Wear protective gloves/protective clothing/eye protection/face protection.
P305 + P351 + P338 – IF IN EYES: Rinse cautiously with water for several minutes. Remove contact lenses, if present and easy to do. Continue rinsing.
P501 – Dispose of contents/container regarding local regulations.
Random selection: Chemicals